Veteran's Day Stories: Roy Shepherd in Panama
Originally created as Armistice Day after World War I, it was renamed "Veteran's Day" after World War II. To commemorate Veteran's Day in 2014, we will be sharing excerpts from our book Staying Alive: How to Act Fast and Survive Deadly Encounters. This is Part 2 of 3 of our Veteran's Day series. This excerpt features the story of co-author Dr. Sonayia Shepherd's father, Roy Shepherd. Roy not only survived by exhibited heroism in an unusual way when he encountered a swarm of killer bees and saved his unit from being attacked by an unlikely enemy despite being badly stung himself. For more on surviving traumatic stress, buy Staying Alive: How to Act Fast and Survive Deadly Encounters on Amazon. From Staying Alive: How to Act Fast and Survive Deadly Encounters, Introduction Another common theme you will find in this book is the use of stories about people that we know, including our colleagues, friends and family members. One of these stories illustrates the "unexpected crisis" perfectly. Deep in the jungle of the Panama Canal Zone, Private First Class Roy Shepherd was the point man on a patrol during a training mission.  As PFC Shepherd was leading the company to an assault position, he used his machete to chop low hanging limbs to clear the path for his unit.   The weather was moist and a dense fog covered much of the path. Suddenly he felt a burning pain on his face.  He soon realized that the pangs of intense pain were the stings of Africanized Honey Bees – commonly called killer bees – that descended upon him and covered much of his face, including his eyes and mouth.   As he ran back to warn the company to stay out of the area, he felt his breath becoming shorter and shorter and his eyes blurred from the swelling and the bees that covered his face.  He was in fact allergic to bees, so he knew that he only had a limited time to react.  He quickly realized that running back to the company would put them in jeopardy because the bees were following him in attack mode.  He decided to radio the other soldiers, not only for help but to tell the company to avoid the area.  He was able to give the coordinates minutes before passing out. Shepherd woke up two days later in a hospital.  The last thing that PFC Shepherd expected to encounter while fighting in the jungle was a swarm of bees, but he was able to maintain enough calm to take protective actions for his unit.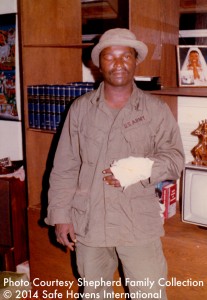 Roy Shepherd after being attacked by killer bees in Panama We only know of this incident because PFC Shepherd is the father of one of the co-authors. Upon reflection, the reader will likely realize that they too have family members, friends, colleagues, and acquaintances that have survived deadly encounters. While we often focus on the tragic events that lead to the loss of multiple lives, we must not forget what we can learn from our son-in-law who survived combat in Afghanistan, our neighbor who is a paramedic, or our uncle who escaped a deadly apartment fire many years ago.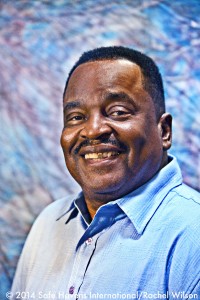 Roy Shepherd in the Safe Havens Video studio, 2013