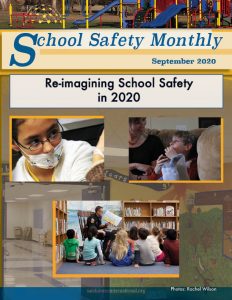 Due to the massive surge in requests for services following the tragedy at Marjorie-Stoneman Douglas High School in February, 2018, we had to discontinue publication of our newsletter School Safety Monthly.  Even though we had 62 analysts, our team was fully tasked performing school safety, security, climate, culture and emergency preparedness assessments for more than 1,000 schools in 12 months while also providing post-incident assistance for six different active assailant and targeted shootings at K12 schools.  To properly serve those that needed our assistance, we dramatically reduced blog posts, newsletter publication and put a free guide we were about to publish on hold.
Though we have cleared most of our projects, we are still heavily booked until January.  While it will likely take a few more months for us to be able to get back to the regular volume of newsletters, blogs and new free school safety guides we typically produce.  Click here to sign up for our free e-newsletter School Safety Monthly. You can also download our most recent edition here, which is focused on the controversial movements to discontinue school resource officer programs and to "re-imagine" how the protection they have offered is provided.
This month's issue also includes information on a free virtual seminar I will be presenting on October 8th courtesy of Fanning Howey Architecture.  The seminar School Safety by Design will focus on practical ways to improve school safety, security, climate and emergency preparedness in new school construction and renovation projects.