School Safety Fidelity
This month's issue of school safety monthly is an interesting topic that spans all that we do in keeping our schools safe. While the concept is as fundamental as the all-hazards approach to emergency management, it is sometimes easy to forget the basics. School safety fidelity is as simple as making sure we do what we say we are going to do. This can manifest itself in different ways, from a failure to follow proscribed student supervision policies to the use of active shooter programs that breed inconsistency by design. Having practices, policies and training that are mismatched is one of the easiest ways to create liability and increase actual risk.
Room for improvement in school safety practices and procedures to enhance fidelity can be found in many areas. From basics like student supervision to more complex issues like active shooter response and mandatory reporting for child sexual abuse, mismatched policies and practices can cause injury and death when not addressed. In actuality, we should be taking a closer look at everything we do during the periodic review and updating of our plans.
The good news is that like most obstacles, this one can be overcome. There are a number of ways to identify gaps in school safety fidelity. There are also several ways to close these gaps and enhance school safety with sometimes very little actual effort. In many cases the answer is a simple adjustment of practice or training update. Read this month's issue of School Safety Monthly: School Safety Fidelity to find out how.
Click the image below to download the April 2017 issue of School Safety Monthly: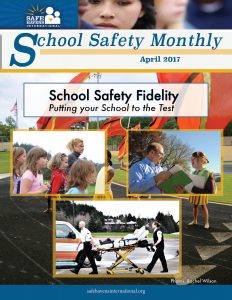 For past issues of School Safety Monthly as well as archived issues of our electronic journal The Safety Net, visit our newsletter archives page here: