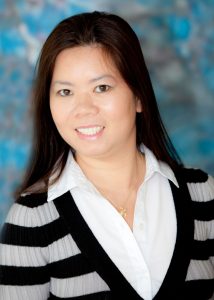 A trained and skilled researcher, Phuong has analyzed assessment data, prepared documents, and provided oversight for reporting for all Safe Havens school safety assessment projects since 2010, including major projects for the Center for Safe Schools funded by the Pennsylvania Department of Education, the Hawaii Department of Education, the Wisconsin Homeland Security Council, the Indiana Department of Education, and the Maine Department of Education, covering more than 2,000 public, private, charter, independent, and parochial schools. Phuong has also assisted in conducting on-site school security and emergency preparedness assessments for public, independent, and faith-based K12 schools in 17 states and the District of Columbia. Phuong also assisted Safe Havens with off-site evaluation work for a security assessment for an independent Christian school in Nairobi, Kenya after the school was ranked as the number one soft target in Kenya by the U.S. State Department.
Phuong served as the content editor for the book Staying Alive – How to Act Fast and Survive Deadly Encounters which was released in bookstores by Barron's in May 2014. Phuong also co-authored the IS 360: Preparing for Mass Casualty Incidents: A Guide for Schools, Higher Education, and Houses of Worship web training program on active shooter prevention and preparedness for the United States of Education as part of the 2013 White House School Safety Initiative. Phuong has also served as a co-author for six web courses on the prevention of and preparedness for active shooter events and is currently co-authoring six terrorism web courses for Scenario Learning Inc. Phuong is also the lead co-author for a 600-page university textbook Extreme Violence: Understanding and Protecting People from Active Assailants, Hate Crimes and Terrorist Attacks released by Cognella in January 2021.
Prior to her work with Safe Havens, Phuong worked in the following roles:
1999 to 2001 – Adjunct faculty member teaching English at Vietnam National University, Hanoi.
2002 to 2004 -Administrative Assistant – Office of International Relations at Vietnam National University, Saigon.
2004 to 2005 – Research Assistant – Vietnam Center at Texas Tech University. Phuong completed the following degrees:
1999: BA degree in English Linguistics at Quinhon University, Vietnam – Honors Graduate number one student in her department.
2002: MA in Applied Linguistics at Vietnam National University in Saigon, Vietnam.
2006: MA in Mass Communications at Texas Tech University with a 3.9 GPA.
2018: MS in Cyber Security at the University of Maryland University College with a 4.0 GPA.