Evaluating and Managing Anonymous School Threats
This past Monday across the United States there was an array of anonymous school threats, including messaging indicating that school bombings or other types of school violence would occur. Thousands of students were evacuated from their schools, and in a number of cases, schools were closed. We have seen a series of these situations in the United States over the past three years. We are also seeing these in our work in other countries. During our recent project in India, thousands of students were evacuated from numerous schools in the suburbs of New Delhi after three students called in a series of anonymous school threats from a classroom using a watch with a SIM card.
During our assessment visits to schools in Trinidad-Tobago a few months ago, we found that there had been similar incidents there as well. In one case, military personnel provided security for a high school after anonymous threats of violence were communicated.
The recent events of the greatest concern in the U.S. have involved coordinated anonymous school threats against multiple school districts in various regions on the same day. Threats similar to those made against New York City Schools were communicated to the Los Angeles Unified Public School System on the same day. As you may recall, the LAUSD decided to close all of its schools for the day. Monday's threats appeared to involve an even greater number of threats than past incidents.
With the increase in terrorist activities in Europe and the United States combined with repeated warnings by FBI Director James Comey about significant limitations in our ability to monitor persons of concern for terrorism involvement, we have clear indications of an elevated risk of terrorist attacks on U.S. soil. Recent polls show that Americans are very concerned about the potential for terrorist attacks. These factors in turn make it easier for individuals and organizations to exploit fear through anonymous threats of violence involving schools. Though the school year is coming to an end in most areas of the country soon, we anticipate more problems of this type will recur next school year.
Here are a three potential action steps that school and public safety officials may wish to consider implementing over the summer to prepare for threats of violence, including anonymous school threats: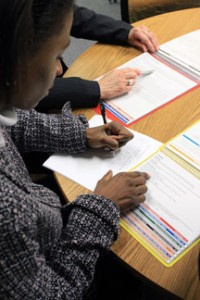 Work with local or state emergency management/homeland security officials to run a series of short tabletop scenarios where a multi-disciplinary team has to review and quickly develop a response plan for each scenario. With proper structuring, a team could run through 6-12 scenarios in a few hours. By running the scenarios in a short time frame, school and public safety personnel can practice working together in real-time fashion to make decisions with limited time and information just as they will often have to do if they receive anonymous threats. Security Director Guy Grace and his district's crisis team have been running different anonymous threat scenarios several times each year to practice for these challenging situations.
Consider developing improved surge capacity for security and police personnel and increased security posture on short notice. This can afford school officials increased options that may allow them to keep schools open when threats are received.
School officials should consider meeting with local, state and federal law enforcement officials to see if there are any opportunities to improve the speed and quality of information sharing relating to investigations once a threat has been received. This type of collaboration can be the difference between suspects being identified and prosecuted or not.
There are other ways to address these increasingly problematic situations, but these three action steps can improve the ability of school and public safety officials to respond to anonymous threat of school violence.
For additional information on bomb threat management, which can be applied to anonymous school threats as well, please check out Bomb Threat Basics at:
http://safehavensinternational.org/wp-content/uploads/2014/08/bombthreatbasics-SafeHavensIntl.pdf