ARVE Error: src mismatch
provider: youtube
url: https://www.youtube.com/watch?v=0ut79UKKA1o&t=14s
src in org: https://www.youtube-nocookie.com/embed/0ut79UKKA1o?start=14&feature=oembed
src in mod: https://www.youtube-nocookie.com/embed/0ut79UKKA1o?start=14
src gen org: https://www.youtube-nocookie.com/embed/0ut79UKKA1o


Book Trailer for the textbook "Extreme Violence: Understanding and Protecting People from Active Assailants, Hate Crimes, and Terrorist Attacks (First Edition)"
Available at Cognella.com click here to purchase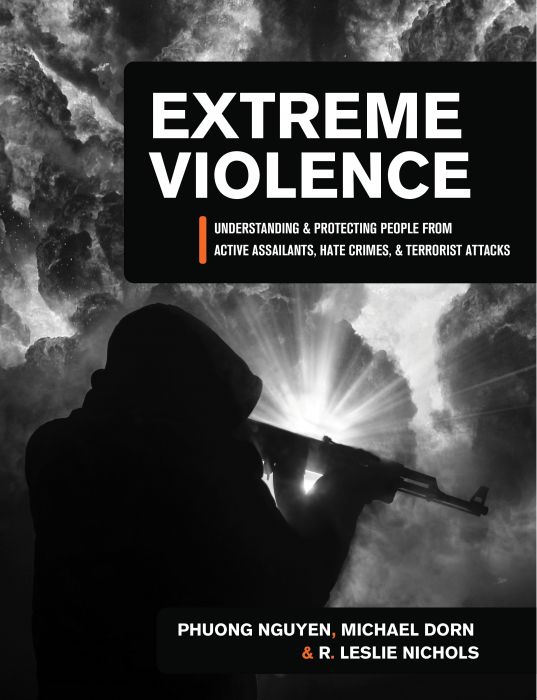 Extreme Violence: Understanding and Protecting People from Active Assailants, Hate Crimes, and Terrorist Attacks provides readers with a comprehensive treatment of critical knowledge needed to understand, prevent, prepare for, and respond to catastrophic acts of violence.
In Part One of the book, readers learn about various types of extreme violence, terrorist organizations, attack methodologies, weapon types, mass transit targeting, and vulnerabilities of critical infrastructures. Part Two focuses on prevention strategies, including hazard and vulnerability assessments, evaluating anonymous threats, target-hardening, crime prevention through environmental design, security technology, and behavioral approaches. It also discusses how attackers can leverage an organization's own security technologies to carry out more effective attacks. Part Three explores preparedness and emergency responses, emergency communication systems, and the National Incident Management System. Part Four speaks to the aftermath of extreme violence by addressing public communications, mental health recovery measures, litigation and reputation damage protection, business resilience, and conducting post-incident reviews.
Written by internationally experienced security experts who have helped prevent, respond to, and provide post-incident assistance for more than 32 planned attacks globally, Extreme Violence is an ideal resource for courses in security management, homeland security, terrorism, public administration, and law enforcement. This timely text is invaluable for practitioners working in homeland security, emergency management, policing, security, criminal justice, public administration, and terrorism.