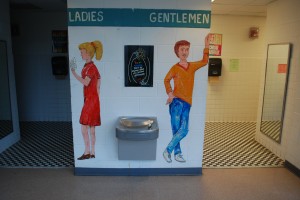 A+ Example of Murals to Enhance School Safety
Murals Enhance School Safety in Chapel Hill
While reviewing a school security report prepared by one of our analysts, we noted an unusually creative use of murals to mark student restrooms.  The photos were taken at Phillips Middle School in Chapel Hill, North Carolina.  We would like to share this excellent example of an A+ in school safety effort.  All of us have probably walked into a restroom designed for the opposite sex by mistake.  There are also instances in schools where a male student enters a girl's restroom intentionally but claims they did so by mistake.
A+ in School Safety Solution at Phillips Middle School
Staff at Phillips Middle School came up with an excellent solution to this that is superior to anything I have seen in my visits to thousands of K12 schools over the years.  While I have seen other examples of clearly marked student restrooms, none of the approaches I have seen have been as clear as this example.  By combining murals depicting students with signage on two walls, the staff at Phillips have dramatically enhanced communication and significantly reduced the opportunity for a student to enter a restroom designed for students of the opposite sex intentionally or accidental accidentally.
A+ in School Safety effort and effect
Working routinely with architects and school planners over the years, I have encountered hundreds of really great ideas to improve school safety through murals, signage and other visible features.   Fortunately, I still learn new and better ways to use visual indicators to improve school safety, security, climate, culture and emergency preparedness each year.  We are always looking to our clients for A+ school safety ideas.
We are impressed with the innovative and effective approach used by the staff at Phillips High School.  They remind us just how powerful a relatively simple and inexpensive approach to improve school safety and climate can be.  For this, we give the team at Phillips an A+ for innovation.